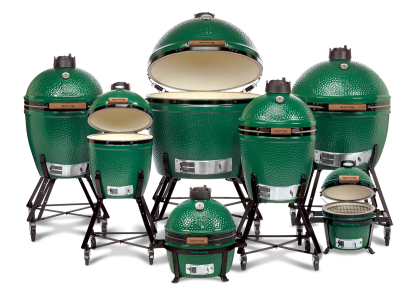 MINI MEATLOAF PEPPER RINGS
• 4 large bell peppers (red, yellow, or orange)
• 2 lbs. venison
• 1½ teaspoon O'Neill Outside Spices
• 1 egg
• ¼ cup Italian bread crumbs
• ¼ cup shredded parmesan cheese
• Pinch crushed red pepper flakes
• 3 cloves garlic finely chopped
• 1 Tablespoon olive oil
• 1 Tablespoon chopped parsley
• 1 cup shredded Italian cheese blend
• 1 28oz. can crushed tomatoes
Method
Prepare peppers by slicing off a little of the top and bottom of each pepper. Do not discard these. Cut out the ribs and seeds; slice into 3 rings. Dice up the remaining parts of the pepper to use in the meat mixture.

Prepare meatloaf mix. Mix venison with seasonings, bread crumbs, egg,
parmesan, red pepper flakes, garlic and remaining diced peppers until       combined. Stuff each pepper ring with meat mixture leaving a dome of the mixture on top of each pepper.

Set the EGG for indirect cooking at 350°F/177°C. 

Heat olive oil in the Stir Fry & Paella Pan and brown each pepper ring on each side for about 4-5 minutes. Once browned, pour crushed tomatoes over the pepper rings. Cook for 35-45 minutes.