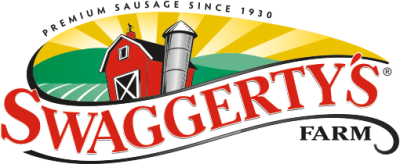 SAUSAGE AND WHITE BEAN CHILI
Ingredients:

8-10 Swaggerty's Farm Sausage links

½ red bell pepper chopped

1 medium onion chopped

2 sticks celery chopped

2 cloves garlic finely chopped

2 tablespoons olive oil

2 cans great northern beans rinsed and drained

2 cans Cannellini Beans (white kidney beans) rinsed and drained

1 can Garbanzo Beans (chickpeas) rinsed and drained

1 can chicken stock + 1 cup water

1 generous Tablespoon chili powder

½ teaspoon cumin

Salt and pepper to taste

Ingredients:

Cook sausage links over medium heat until golden brown. Set aside to drain.

Add Olive oil, bell pepper, onion, and celery. Sauté until the veggies are softened. Toss in garlic and sauté for another 2 minutes.

In a large cooking pot or Dutch oven, over medium heat, add chicken stock, water, and all the beans. Add bell pepper and all the veggies, stir to combine.

Add one generous Tablespoon of chili powder and ½ teaspoon cumin. Salt and pepper to taste.

Cut sausage links into 1-inch bite size pieces. Add to the cooking pot.

Turn heat to medium and cook for 30 minutes to 1 hour. Taste and adjust seasonings.


Garnish.