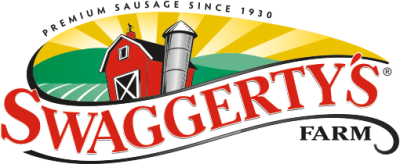 Ingredients:
6 slices whole wheat bread

1 pound Swaggerty's Farm Sausage Mild or Hot

1 cup shredded cheddar cheese

1 cup shredded Monterey jack cheese

6 whole eggs

2 cups evaporated milk

1 – 2 dashes Tabasco

1 teaspoon soy sauce

Grease 9X9 baking dish.

Remove crust from bread.

Tear remaining bread into pieces and spread over bottom of baking dish.

Brown sausage, drain, and spread over bread.

Sprinkle cheese over sausage.

Whisk eggs until foamy.

Add all remaining ingredients and whisk together.

Pour over cheese and sausage.

Cover and refrigerate over night.

Preheat oven to 325°.

Bake uncovered for about 45 minutes.